What styles of banquet chairs are available?
When it comes to banquet chairs, there are a variety of styles available to suit your individual needs and preferences. Here are some of the most popular styles:
1. Chiavari Chairs: These classic chairs are a popular choice for upscale events and weddings. They are known for their elegant design and come in a variety of colors and finishes.
2. Cross-Back Chairs: These chairs have a rustic, farmhouse-style feel with their wooden frames and X-shaped back design. They are often used for outdoor events and country-themed weddings.
3. Folding Chairs: Ideal for events requiring quick and easy set-up and tear-down, folding chairs come in a variety of materials and colors.
4. Ballroom Chairs: These chairs feature a plush, cushioned seat and back, and are often used for formal events such as galas and balls.
5. Banquet Stacking Chairs: These chairs are stackable, making them easy to store and transport. They come in a variety of materials and finishes, and are suitable for a range of events. They can be used in conference rooms, schools, offices.
When choosing event chairs for your hotel or event space, consider the style and theme of your venue, as well as the durability and comfort of the chairs. High-quality, durable banquet chairs are an investment that will pay off in the long run, as they will last for many years and provide a comfortable and stylish seating option for your guests. They have different back sides. Trapezoidal backs, dome backs, teardrop backs etc…
What materials are banquet chairs made from?
Banquet chairs are typically made from a variety of materials, each with its own strengths and weaknesses. The most common materials used include wood, metal, plastic, and resin.
Wooden event chairs are often made from solid hardwoods such as beech or oak, which are known for their durability and long lifespan. They are also versatile in terms of style and can be stained or painted to match any decor. However, wooden chairs can be heavy and difficult to move and may require regular maintenance to keep them looking their best.
Metal banquet chairs are usually made from lightweight materials such as aluminum or steel, making them easy to move and stack. They are also strong and durable, able to withstand heavy use and abuse. However, metal chairs can be uncomfortable for extended periods of sitting and may not be as aesthetically pleasing as other options.
Plastic banquet chairs are lightweight, easy to clean, and can be molded into a variety of shapes and styles. They are also affordable, making them a popular choice for budget-conscious hotels. However, plastic chairs may not be as durable as other options and may not be suitable for formal events.
Resin banquet chairs are made from a combination of plastic and resin materials, giving them a sleek and modern look. They are also lightweight and easy to clean, making them a popular choice for outdoor events. However, resin chairs may be more expensive than other options and may not be as comfortable for extended periods of sitting.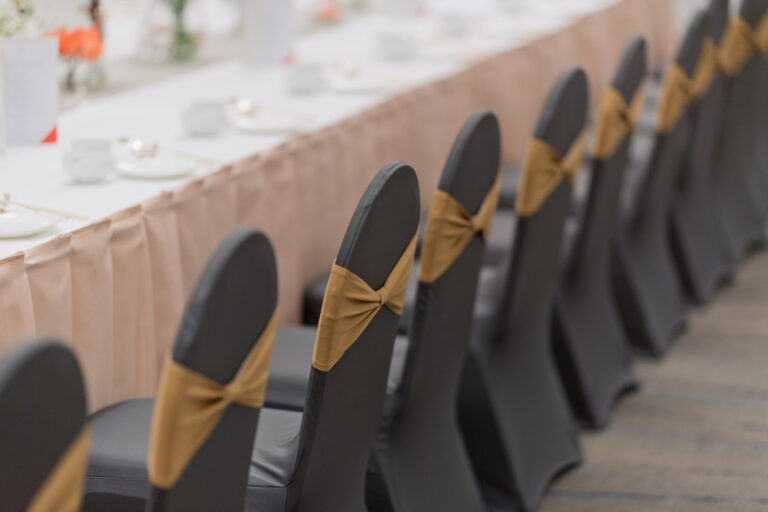 Do banquet chairs come with any special features?
Yes, event chairs come with a variety of special features that make them ideal for use in hotels and other event venues. Some of the most common features of high-quality banquet chairs include:
1. Comfortable seating: Event chairs are designed to provide comfortable seating for guests during long events, which is why they typically have padded seats and backs.
2. Durability: Event chairs are subjected to a lot of wear and tear, which is why they are typically made from high-quality materials that can withstand frequent use over long periods of time.
3. Stackability: Event chairs are often used in large numbers, which is why they are designed to be stackable for easy storage and transport.
4. Lightweight: Event chairs are typically lightweight and easy to move around, which makes them ideal for use in large event spaces where they need to be set up and taken down quickly.
5. Customizable: Many event chairs can be customized to suit the specific needs of a particular event or venue. This might include adding logos or branding to the chairs, or choosing from a range of different colors and finishes.
Overall, banquets are an essential piece of furniture for any hotel or event venue looking to provide comfortable seating for guests during events. When choosing banquet chairs, it is important to look for high-quality, durable options that are designed to meet the specific needs of your space and your guests.